Japan sharpens censure of China disputed sea activity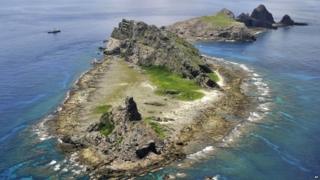 Japan's annual defence report has strengthened criticism of Chinese land reclamation and offshore platforms in disputed seas.
The white paper was approved by PM Shinzo Abe on Tuesday after the first draft was rejected by his party for not taking a strong enough line on China.
It comes after the lower house approved changes to the national security law.
Those changes would allow Japanese troops to fight overseas for the first time since World War Two.
They are expected to be approved by the upper house.
China reacted strongly to the passing of the bills through the lower house, urging Japan to "stick to the path of peaceful development" and avoid harming the region's stability.
China claims sovereignty over almost the whole of the South China Sea, areas of which are also claimed by the Philippines, Malaysia, Vietnam, Taiwan and Brunei.
It also has overlapping claims with Japan on territory in the East China Sea, known as the Senkaku islands in Japan and the Diaoyu islands in China.
On Tuesday, Japan's defence ministry added a demand into its annual report for China to halt construction of platforms in the East China Sea that it began two years ago.
"We have confirmed that China has started construction of new ocean (exploration) platforms and we repeat our opposition to unilateral development by China and call for a halt," the ministry said.
The disputed seas are close to important shipping lanes, offer rich fishing grounds and lie near potential oil and gas reserves.