Malaysia Airlines plane makes Melbourne emergency landing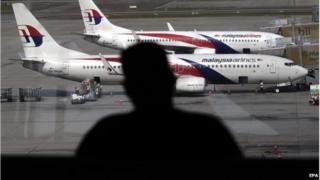 A Malaysia Airlines passenger plane has made an emergency landing in Melbourne, Australia after reporting a possible engine fire.
Flight MH148 had just taken off from Melbourne for the Malaysian capital Kuala Lumpur when the problem occurred.
Plane tracking sites showed the Airbus 330 circling Melbourne airport several times before turning back.
Fire engines were on site but airport officials said it landed safely at 15:00 local time (05:00 GMT).
All 300 passengers disembarked safely at Melbourne's Tullamarine airport, Malaysia airlines said in a statement.
A preliminary inspection of the plane, which has been grounded, showed "no physical evidence of fire externally", the airline said.
"Safety is our utmost priority," it added.
A spokeswoman for Airservices Australia, the government's aviation safety body, said the plane had reported an "engine fire" alert in the cabin.
"The plane proceeded to dump the fuel and returned to land and it landed safely at the aviation rescue sites," she told Reuters news agency. Officials said this was standard procedure for an emergency landing.
Malaysia Airlines suffered two major disasters last year. In March, flight MH370 disappeared with 239 passengers and crew aboard and was never found.
Four months later, flight MH17 was shot down by a suspected ground-to-air missile while in Ukrainian airspace, with the loss of 298 passengers and crew.
The two disasters severely damaged the already struggling business, and earlier this month it announced it was "technically bankrupt".
On Tuesday, new CEO Christoph Mueller said the airline would relaunch as an "entirely new company".
"We will leave the old Malaysian Airlines behind," Mr Mueller told the BBC.