Delhi minister Jitender Singh Tomar held 'for fake degree'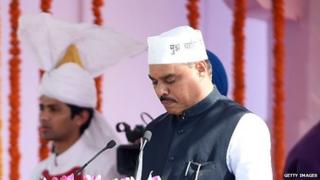 Indian police say they have arrested Delhi's law minister amid allegations that his law degree is fake.
Jitender Singh Tomar, who belongs to the Aam Admi Party (AAP), faces charges of forgery and cheating if he cannot prove he attended university.
Mr Tomar has dismissed the claims as "baseless", but the university says it has no record of his attendance.
The AAP, which was elected in Delhi on a pledge to fight corruption, says the arrest politically-motivated.
"He has been arrested without any notice or prior information. What is BJP government doing?" party leader Sanjay Singh told the Times of India.
Delhi's Deputy Chief Minister Manish Sisodia told the Economic Times of India that the AAP was being targeted.
"This arrest is illegal. There is an emergency-like situation. This is supposed to be a democracy... Maybe it is an attempt to teach the AAP a lesson."
The AAP won a landslide 67 out of 70 seats in Delhi's council in February's election. It was seen as a major blow to the Prime Minister Narendra Modi's nationally governing BJP party.
'No record of degree'
Mr Tomar had submitted documents showing that he held a law degree when he ran for office.
The Delhi bar association filed a police complaint against Mr Tomar on Tuesday, after it repeatedly requested him to provide proof of his qualifications.
The association's chairman, KK Manan, told Z-news that they first received complaints about Mr Tomar's qualifications in January and then again in February.
The Tilka Manjhi Bhagalpur University in Bihar state has previously said that it has no record of the law minister receiving his degree.
Mr Tomar responded that the university had not denied that he was a student and that "there are so many students they could have forgotten".