Police find dozens of graves in Thailand jungle camp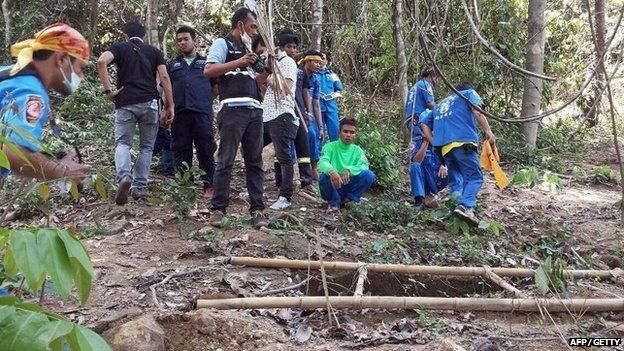 Dozens of graves have been found in an abandoned jungle camp in southern Thailand, in an area regularly used by people smugglers.
Thai police said they had also found a sick man and a corpse lying nearby.
A number of bodies have already been exhumed but it is not certain who they are or how they died.
Reports say this remote area on the border with Malaysia is used to smuggle Rohingya Muslims fleeing persecution in Myanmar.
"There are 32 places that look like graves and whether there is one body or several bodies in those graves, we will we have to wait and see," National police spokesman Lt Gen Prawut Thawornsiri told AFP news agency.
He said that human traffickers were believed to have abandoned the sick man two days ago as they moved people across the border.
Sathit Thamsuwan, a rescue worker at the scene told AFP that the man had been taken to hospital and was in a stable condition.
Local media said that villagers had tipped off the police after stumbling onto the camp in Songkhla province.
The graves were marked with bamboo but did not identify who was buried there, according to The Associated Press news agency.
Police said that all of the graves are due to be exhumed in the coming days and post-mortems carried out.
The BBC's Jonah Fisher in Myanmar says that it is not immediately clear how these people died but that, from looking at the remains, police officers believe that many perished from disease or starvation.
The purpose of the camp is also unclear but our correspondent says that smugglers are known to hold people in camps for months while ransoms are demanded from their families back home.
Every year thousands of people are trafficked through Thailand and into Malaysia.
Rohingya Muslims in particular have used the route to flee persecution and sectarian violence in neighbouring Myanmar (formerly known as Burma).
In 2012, more than 200 people were killed and thousands left homeless after violence broke out between Buddhists and Muslims in Myanmar.
Anti-Muslim violence has flared several times since then.
In December, the UN passed a resolution urging Myanmar to give access to citizenship for the Rohingya, many of whom are classed as stateless.