Gunmen kill 13 in Afghan road attack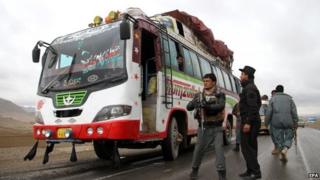 Gunmen have attacked vehicles on a road in eastern Afghanistan, taking at least 13 people off a bus and shooting them dead, local officials say.
Attahullah Khogyani, a spokesman for the provincial governor of Wardak, said the attackers targeted three vehicles.
No group has so far claimed responsibility for the attack south-west of the capital Kabul, which happened after midnight.
It comes as Afghan leader Ashraf Ghani holds talks in the US on security.
Thirteen people, including a woman, were shot dead when they were taken off the bus on the highway between Kabul and Kandahar by masked gunmen. Two others were critically injured, Afghanistan's Tolo news agency reported.
The gunmen picked their victims and shot them one by one, Mohammad Ali, the deputy governor of neighbouring Ghazni province, told AFP news agency.
For many years the Taliban have controlled much of the countryside in this area, but they have denied involvement and have vowed in a statement to try to find the attackers, reports the BBC's Afghanistan correspondent, David Loyn.
IS fears
There have been unconfirmed reports of activity by Islamic State fighters in Wardak and the surrounding area, our correspondent says, and the Afghan government is not now denying the threat it faces from IS.
Last month, 31 passengers were abducted from a bus on the same highway, but on a stretch running through Zabul province. They have not been seen since.
Foreign troops ended their combat role in Afghanistan in December but some have remained in the country to support the Afghan military who are battling a bloody insurgency by the Taliban.
President Ghani is due to hold talks with US President Barack Obama later on Tuesday. Mr Ghani is expected to ask that the US military slow its exit from Afghanistan. The original plan was to cut the remaining 9,900 US troops to 5,500 by the end of this year.