Cyclone Pam: Supplies begin to reach survivors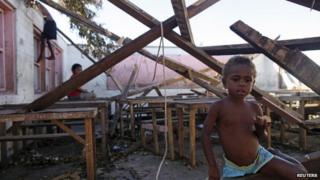 Emergency aid is beginning to reach some of the worst-hit islands of Vanuatu, after a cyclone tore through flattening entire villages.
Officials say planes have taken food, water and medical supplies to Tanna island, which was directly in the path of Cyclone Pam.
But aid agencies warn much more aid will be needed in the weeks to come.
Flights over some islands showed villagers had marked out the letter H for help, one man said.
Assessor for the United Nations Joe Lowry told the BBC that people were still in desperate need of shelter and water.
"We know what the needs are now on six of the islands and we have a fair idea of what the needs are going to be everywhere else and those needs are definitively shelter and more shelter," he said speaking from Tanna.
"Where I was today they are pretty much out of fresh drinking water. Food is in very short supply and lots of the food stocks that were there have been damaged. The food that was growing above ground was all swept away."
Aid workers reached Tanna for the first time on Tuesday and reported more than 80% of homes or buildings had been partially or completely destroyed.
"There's a landscape of skeleton trees and patchworks of square outlines where houses used to be," said Angus Hohenboken from aid group Oxfam.
He added that the fierce winds had uprooted water tanks and blown them miles away. Crops were demolished and electricity was out.
A ferry full of relief supplies was expected to reach Tanna's 30,000 people on Thursday.
'Rebuild the nation'
The southern islands of Tanna and Erromango are thought to have been hardest hit when Cyclone Pam barrelled in on Saturday, packing winds of up to 300km/h (185mph).
But the capital, Port Vila, was also badly hit and the situation in some more remote places remains unknown.
The lack of landing strips and deep water ports is hampering efforts reach distant islands in the sprawling archipelago, making it harder to assess damage and distribute supplies. Communications have also been badly hit.
Vanuatu's Prime Minister Joe Natuman said it would be "at least a week or two before the situation becomes clearer".
Some reports on Wednesday said the southern islands of Futuna and Aneityum were found to be relatively unscathed.
The UN Office for Coordination of Humanitarian Affairs has revised down the death toll from 24 to 11 but said it expected that number to rise.
Baldwin Lonsdale, Vanuatu's president, returned to his country on Tuesday night from Japan where he had been attending a UN conference when the cyclone hit.
"I trust the people of Vanuatu. I trust my government. I trust the people that they will stand united together as a nation and to rebuild the nation," he said.
Meanwhile, aid workers are trying to stave off a measles outbreak. Vanuatu has low rates of immunisation and has already had an outbreak earlier this month.
Teams were vaccinating children in the capital Port Vila, providing Vitamin A and handing out bed nets, according to Unicef.
---
How poor is Vanuatu?
The UN considers it one of world's least developed countries. It has a GDP of $828m (£560.7m) compared to neighbouring Australia's $1.56tn, according to the World Bank
About two-thirds of people make a living from agriculture. Fishing, tourism and offshore financial services are the other main industries
Australia estimates that about 70% of the population of 250,000 live on remote islands or in rural areas, with few services and limited access to clean drinking water, transport or electricity
Australia is Vanuatu's main donor, giving A$60.7m (£31.45m: $46.5) in 2013/4, about 60% of total aid
---