China protests over 'deadly Myanmar border raid'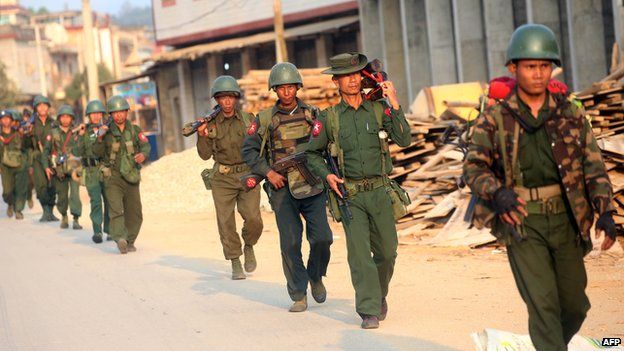 China has sent fighter jets to its border with Myanmar and lodged a diplomatic protest after a Myanmar warplane reportedly dropped a bomb on its territory, killing four civilians.
The bomb exploded in a sugar cane field near Lincang in Yunnan province along the frontier with Myanmar, reports say.
Myanmar has been fighting rebels in the Kokang region, bordering China.
A Myanmar official quoted by Reuters denied bombing China and said rebels may have caused the explosion.
"It's possible that those fighting with us purposely created these attacks with the intent of causing misunderstanding between China and us," the official said.
China recently warned Myanmar (also known as Burma) that the escalating conflict in the Kokang region could destabilise the border area.
Some 30,000 refugees have fled the conflict for China. Myanmar is fighting ethnic Han Chinese rebels in the remote region, in its north-western state of Shan.
China sent fighter jets to patrol the Myanmar border after the bomb was dropped on its territory, officials in Beijing said.
China's deputy foreign minister, Liu Zhenmin, also summoned Myanmar's ambassador to Beijing, Thit Linn Ohn, to complain about the bombing.
Four people working in the field were killed in the raid and another nine were hurt, China's official Xinhua news agency said.
Clashes between Myanmar's military and rebel fighters known as the Myanmar National Democratic Alliance Army (MNDAA) have intensified since February.
The government has declared a state of emergency in the rebels' base in the Kokang region.
The fighting was triggered by the return of rebel leader Phone Kya Shin after five years of exile in China.
Myanmar has accused former Chinese soldiers of training the rebels - an allegation denied by the rebels. China has also rejected any links with the rebels.