Slashed US ambassador Lippert leaves South Korea hospital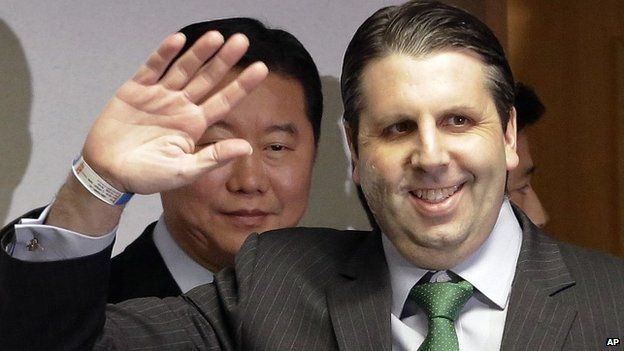 Mark Lippert, the US ambassador to South Korea who was slashed at a breakfast meeting last week, has been discharged from hospital in Seoul.
Mr Lippert suffered gashes to his face and hand when he was attacked by a knife-wielding Korean nationalist.
He told reporters before he was discharged that the US mission to be "open and friendly" would not change.
The attacker, Kim Ki-jong, was tackled at the scene - he has denied charges of attempted murder.
Doctors said the ambassador had had 80 stitches from his face removed and that the pain in his wrist had subsided.
They said the cuts would have been life-threatening had they been deeper.
Mr Lippert, 42, said on Tuesday that he expected to make a full recovery and return to work as soon as possible.
"I feel pretty darn good, all things considered. I mean it was obviously a scary incident," he said at a news conference held with heavy security presence at Yonsei University's Severance Hospital.
"But I'm walking, talking, holding my baby, hugging my wife, so I just feel really good."
The attack prompted rallies and prayer sessions in support of Mr Lippert and US-South Korea relations. South Korean President Park Geun-hye visited him in hospital on Monday.
Police have not established a motive for Mr Kim's action, but said he shouted after the attack that he opposed ongoing military drills being conducted by the US and South Korea, and called for reunification with North Korea.
Kim Ki-jong's militant past
In 1985, was part of a group that cut and burned a US flag on the embassy grounds in Seoul, according to South Korea's Yonhap news agency
Visited North Korea at least six times in 2006-07, reportedly planting trees near the border city of Kaesong
In 2007, set himself on fire in front of the presidential office in Seoul, asking for an inquiry into a rape that had allegedly taken place at his office in 1988 (Yonhap)
When in 2010 he hurled concrete at the then Japanese envoy, Toshinori Shigeie, it was the first assault on a foreign ambassador in South Korea; he received a suspended jail term
In 2011, he tried to erect a memorial altar for the late North Korean leader, Kim Jong-il, in the heart of Seoul (Yonhap)
Has also staged one-man protests against Japan over an island dispute (Reuters)