Myanmar police arrest demonstrators against new education bill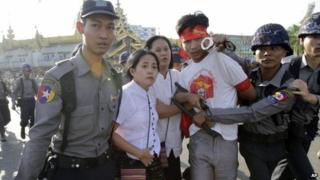 Police in Myanmar have broken up a demonstration against new education legislation and arrested at least eight people.
Dozens of people had rallied in the commercial capital Yangon in support of a student march that was barred from entering the city.
Critics of the National Education Bill say it keeps the management of higher education in government hands.
The authorities have promised changes to the bill.
About 50 protesters had gathered in the heart of Yangon in solidarity with a student demonstration in the central town of Letpadan, where about 200 activists have been corralled by riot police since Monday.
The authorities are keen to stop them them from marching to Yangon which has been the scene of large student demonstrations in the past.
But until now the authorities had appeared reluctant to take forceful action against the student protests which have gone on for months without official permission.
A police officer at the scene in Yangon told AFP news agency, there were eight arrests, but no one was injured.
"The authorities said they would give the protesters 30 minutes to disperse," an eye witness told AFP.
"But after 20 minutes, about 100 people with red armbands attacked them."
Speaking to the BBC, the authorities described the civilians in red arm bands as a "people's support group", adding that they had arrested some of the protestors and handed them to the police.
The students are calling for changes to the new law including decentralising the school system, giving students the right to form unions and teaching in ethnic minority languages.
Parliament had invited students to air their views but talks have stalled.
The military controlled Myanmar - also known as Burma - for decades, until the generals announced reforms in 2010 and a transition to a largely civilian government.