Court orders arrest of Bangladesh opposition leader Khaleda Zia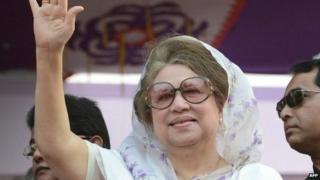 A court in Bangladesh has issued a warrant for the arrest of opposition leader Khaleda Zia, amid a political stand-off in the country.
The court in Dhaka acted after Ms Zia failed to appear in connection with a corruption case.
The Bangladesh Nationalist Party leader denies embezzling hundreds of thousands of dollars in charitable funds.
Her party is engaged in a major confrontation with Prime Minister Sheikh Hasina's government.
Last month Ms Zia urged her supporters to go on strike and block roads and railways to force Ms Hasina to call fresh elections.
Since then at least 100 people have died in clashes around the country.
The BNP boycotted polls in January 2014, saying they would be rigged.
At Wednesday's court hearing Khaleda Zia's lawyers said the former prime minister was unwell but the court rejected that argument.
Government prosecutors accused her of trying to delay the trial which is based on charges filed five years ago, BBC Bangla's Akbar Hossain in Dhaka reports. She has failed to appear on a number of occasions.
The opposition say the case is politically motivated.