Three killed in South Korea shooting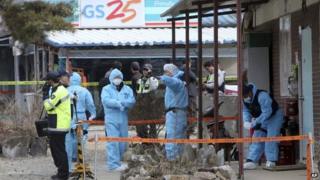 A gunman has opened fire at a convenience store in South Korea, killing three people, local media say.
The shooting happened around 08:00 (23:00GMT Tuesday) in Sejong city, an administrative hub 120km (75 miles) from Seoul.
The suspect was later found dead in a nearby city. Police said he was the ex-boyfriend of the sister of one of the victims.
Gun crime is extremely rare in South Korea.
Most men have experience using a firearm because of compulsory military service but private gun ownership is banned.
Only security personnel can carry guns, and hunters must keep their firearms at a police station.
Police said the suspect had retrieved two shotguns from a police station two hours before the shooting, reports said.
In June 2014 a South Korean conscript shot dead five of his colleagues near the North Korean border.
The young man, who officials said had struggled to adapt to military life, was subsequently sentenced to death.