Pakistan captures militant linked to Peshawar school assault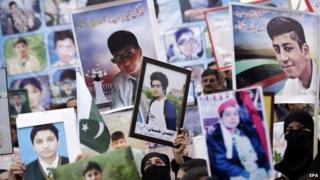 The Pakistani military has arrested a man suspected of taking part in December's attack on the Army Public School in Peshawar.
The army claim that Taj Muhammad was one of the commanders behind the Taliban assault.
The army is still searching for other militants linked to the attack, in which at least 150 people were killed, including 133 children.
All of the gunmen who stormed the school are believed to be dead.
Taj Muhammed was captured in a camp for internally displaced people in the Pawaka area of Peshawar.
Pakistani authorities believe 27 militants were involved in the attack. Nine gunmen were killed during the siege and several others linked to the attack have been captured.
The detainees could be brought before military courts and face the death penalty if convicted of terrorism.
Following the massacre, security has been stepped up in the region, with teachers now allowed to carry guns.
The group of attackers cut through a wire fence at Peshawar's Army School on 16 December before launching an attack on an auditorium where children were taking a lesson in first aid.
The gunmen, who were wearing bomb vests, then went from room to room shooting pupils and teachers in a siege that lasted eight hours.
A faction of the Pakistani Taliban loyal to Mullah Fazlullah said they carried out the attack in revenge for the army's offensive against them in North Waziristan.