Bangladesh Islamist sentenced to death for 1971 war crimes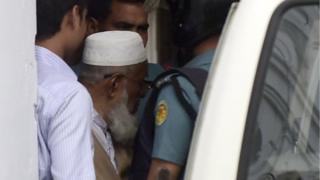 A leading member of Bangladesh's main Islamist party has been sentenced to death for crimes committed during the 1971 war of independence with Pakistan.
Abdus Subhan, 79, is the ninth leader from the Jamaat-e-Islami party to be convicted by a war crimes tribunal set up in 2010 to investigate the war.
He was convicted of killing some 400 villagers in northern Bangladesh.
Human rights groups have criticised the war crimes tribunal, saying it does not meet international standards.
While many Bangladeshis welcomed the work of the tribunal, Jamaat supporters say it is a politically motivated attempt to eradicate its leaders.
Bangladesh independence war, 1971
West Pakistan army fight against East Pakistanis demanding autonomy and later independence
In December, India invades East Pakistan in support of the East Pakistani people
Pakistani army surrenders at Dhaka and its army of more than 90,000 become Indian prisoners of war
East Pakistan becomes Bangladesh on 16 December 1971
Bangladesh broke away from Pakistan after a war in which hundreds of thousands were killed and more than 10 million fled their homes.
The government set up the special court to deal with those accused of collaborating with Pakistani forces who attempted to stop East Pakistan, as Bangladesh was then, from becoming an independent country.
In December 2013, Bangladesh executed Jamaat leader Abdul Kader Mullah after he was convicted of war time atrocities.