Bangladesh petrol bomb attack leaves seven dead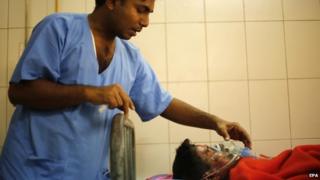 At least seven people have been burned to death and 15 others injured, some seriously, in a petrol bomb attack on a bus in eastern Bangladesh.
Police said the bus had been full of sleeping passengers when it was attacked near the town of Chauddagram.
It is the latest in a spate of attacks on buses, lorries and cars since anti-government protests began last month.
Opposition leader Khaleda Zia called for the protests on the anniversary of last year's disputed election.
However, she has denied that her Bangladesh Nationalist Party (BNP) and its Islamist allies are behind the firebombings.
BBC Bangla's Sayala Roksana in Dhaka says at least 50 people have been killed and 1,000 injured in violence since 5 January. More than 7,000 opposition activists have been arrested.
Farukh Hossain, one of the survivors, told the BBC that most passengers were asleep when the bomb was thrown.
Police officials said authorities had raided nearby villages but no arrests had been made.
"Seven passengers were burnt to death in the bus after the petrol bomb was thrown at 04:00 [20:00 GMT Monday]," district police chief Tuttul Chakrabarty told AFP news agency.
"Five of the passengers are fighting for their life. They have been shifted to a hospital in the capital."
Last month, Ms Zia urged her supporters to enforce a nationwide blockade of roads, railways and waterways to try to force Prime Minister Sheikh Hasina to call fresh elections.
Ms Hasina has denounced the opposition as militants and accused activists of engaging in terrorism rather than politics.
Ms Zia was put under house arrest at the start of the protests, but has since been released.
The BNP and other opposition parties boycotted last year's election, saying it would be rigged.
They were angry that Sheikh Hasina, who has been in power since 2009, refused to stand aside to make way for a neutral caretaker administration to oversee the vote.