Peshawar school massacre: Row over Pakistan armed teacher plan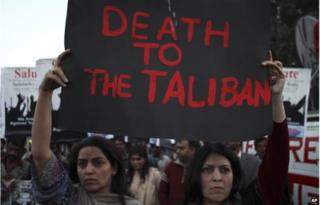 Teachers in north-western Pakistan have criticised a government plan to allow them to carry weapons to defend schools from militant attacks.
Speakers at a teachers' convention in Peshawar city said their job was to educate, not to provide security.
The local authority, which announced the plan last week, insisted no teacher would be forced to carry a weapon.
Taliban gunmen stormed a school in Peshawar last month and killed more than 150 people, most of them children.
Last week, the local government in Khyber Pakhtunkhwa province announced in response to the attack that it would allow teachers to carry weapons by issuing arms licences.
"The idea is to enable them to engage the attackers until help arrives," provincial information minister Mushtaq Ghani said at the time.
He said the decision was taken because police could not be regularly deployed at all schools in the province.
Other plans to stop attacks in schools included raising boundary walls, topping them with barbed wire, installing CCTV and setting up security gates.
The plan to arm teachers was criticised by teachers, opposition politicians and the media, who said the government was trying to shift its responsibility to the teachers.
After teachers complained, provincial education minister Atif Khan told them that the government was "not forcing you to become security guards, but only allowing you to carry arms if you desire."
The 16 January attack on the Army Public School, which came days before winter holidays, sparked fears about school security in Khyber Pakhtunkhwa.
Many schools in suburban areas have not reopened after the winter holidays and others are reporting low attendance.