Pope Francis in the Philippines: Dancing inmates and a Jeepney 'popemobile'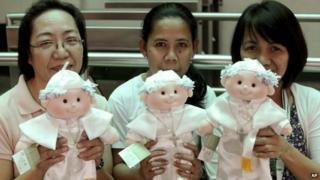 Pope Francis arrived in the Philippines on Thursday for a five-day trip that is expected to attract a record crowd.
The majority of Filipinos, more than 80 million people, are devout Catholics, and the country is considered the Catholic Church's heartland in Asia.
On Friday, the Pope gave his first Mass in Manila's Cathedral, calling on people to be caring to the poor.
He opened his homily quoting Jesus asking "Do you love me?". The congregation of priests called out "Yes", prompting the Pope to laugh and say "Well, thank you very much."
For that exchange and many other incidents during his trip, Filipinos online have been showering affection on the Pope.
The famous dancing inmates of the Cebu Provincial Detention and Rehabilitation Center (CPDRC)- whose video performance of Michael Jackson's Thriller went viral in 2007 - have prepared a special dance for the Pope.
The government has declared a national holiday in Manila for the duration of the visit. The biggest crowds are expected at an outdoor Mass in a historic park in the city on Sunday. Officials say it could attract up to six million people.
Pope Francis will also travel to Tacloban in Leyte province, which was hit by Typhoon Haiyan in 2013 leaving thousands dead, and many more homeless.
The visit is a security challenge and about 50,000 policeman and troops have been deployed on the streets to ensure the safety of the Pope and the large crowds that are gathering.
Francis is the third pope to travel to the Philippines. Two of his predecessors have been the target of assassination attempts while in the country.
In 1970, Pope Paul VI was stabbed by Bolivian painter Benjamin Mendoza when he arrived at Manila airport.
A week before Pope John Paul II's visit in 1995, police said they had foiled a plot by Islamist extremists to assassinate him.
Earlier this week President Benigno Aquino, known affectionately as Noynoy, asked Filipinos to work together to make it a safe trip.
Despite the security risks however, the Pope will not be travelling in a bullet-proof vehicle. The "popemobile" for this trip will be a vehicle similar to a Jeepney, a popular form of transport for the masses in the Philippines.
There will be no glass separating him from millions eager to see him.