Down-to-earth Pope scores hit in Asia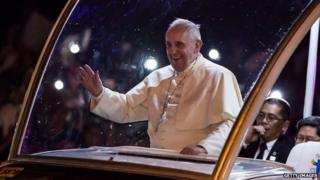 "The People's Pope" is the banner headline in one of Manila's English-language newspapers.
Among the adoring crowds lining the streets of the capital in majority Catholic Philippines, waiting to see their hero in person, it rings true.
As the beaming 78-year-old finally passes by, borne on the back of the Popemobile, some are overcome with tears as they finally catch a glimpse of the man who leads the nation's 80 million Catholics.
Up to a million people gathered behind the barricades across the city to welcome him on Thursday night. To their delight , he waves back.
Everywhere, Pope Francis is likely to see his own face smiling back at him on T-shirts bearing his image and the slogan, "I love Pope Francis."
On Friday, at one of the big screens set up in the park, Cherie Gayos is watching the Pope say Mass at Manila Cathedral.
It is an emotional moment for her, even though she hasn't seen him in person.
"He has passion for Filipinos and he loves us," she says.
"He knows that Filipinos love Christ more than anything else. And I believe that he also came here to help us because of the typhoon, and the disaster it brought."
Also watching is Renato Tugun, enjoying the public holidays declared for the duration of the Pope's visit.
"People here today are so happy that the Pope is here. We are a poor country, which is why we can easily relate to him.
"All his actions make clear that he speaks for the poor.
"So we are very glad here, because 70% of us are poor, and we hope that he can lift our spirits, and that with hard work we can do better."
Focus on poverty
The Pope's universal message of solidarity with the poor has struck a deep chord in a country where, according to official surveys, 25 million Filipinos, or a quarter of the population, live on the equivalent of 60 cents a day or less, while 10 million have gone abroad in search of work.
Churches and chapels are everywhere here, and Pope Francis's face beams out from enormous posters across the city.
In his first speech in the capital, a place teeming with 10 million people, Pope Francis called on church and state leaders to help the poor, and fight corruption.
"The great biblical tradition enjoins on all peoples the duty to hear the voice of the poor," Pope Francis said.
"It bids us break the bonds of injustice and oppression which give rise to glaring, and indeed scandalous, social inequalities.
"It is now, more than ever, necessary that political leaders be outstanding for honesty, integrity and commitment to the common good, and for everyone at all levels of society to reject every form of corruption, which diverts resources from the poor."
Sense of mission
His speeches show a Pope with a clear sense of mission, who wants the Catholic Church to remain a force within family life and modern society - a society that he has often criticised for materialism, individualism and selfishness.
He also unequivocally wants to speak out for the poor, and against increasingly unequal societies across the world, especially where globalisation has brought riches to some, while others still struggle to eat or clothe their families.
Such divisions are starker in the Asian countries he is visiting this week, but he is all too aware they exist in the West as well.
The Argentine is also proving to be a leader who emphasises the importance of the developing world.
Two-thirds of the globe's 1.3 billion Catholics live in the southern hemisphere, where the church often plays a more crucial role in people's lives, especially the poorest and the most vulnerable.
That was illustrated when he made an unexpected stop in Manila to meet several hundred street children at a home run by the Catholic church.
Freedom of expression
However, the Pope's off-the-cuff answers to journalists' questions on the Vatican plane are often more open to interpretation, when he offers lengthy and often colourful answers in his second language, Italian, as he did on Thursday before arriving in Manila.
One of the first questions he responded to was about the boundaries between free speech and the freedom to offend.
The French magazine Charlie Hebdo published cartoons depicting the Prophet Muhammad in the name of free speech, knowing they would offend many Muslims.
While the Pope's answer began with a staunch defence of freedom of expression, saying it was the duty of all to speak out freely, he then stressed there were limits - especially when people mocked religion.
By way of example, the Pope gestured to Alberto Gasparri, the man who organises papal trips and was standing by his side as he spoke.
"I believe you cannot react violently, but if Mr Gasparri, my great friend, says a curse word against my mother, he can expect a punch - this is normal," the Pope said with a smile, making a punching gesture.
"You cannot provoke, you cannot insult other people's faiths. You cannot make fun of faith. There is a limit."
That answer may have disappointed those who have wished to see the Pope as a reforming liberal, challenging old orthodoxies as he tries to set his stamp on the Catholic Church and its bureaucracy at the Vatican.
Papal safety
The Pope was also asked about his own safety, saying that Vatican security officials had taken "prudent measures."
Well over 30,000 Philippines police are out on the streets to protect him during his trip there, jamming mobile phone frequencies around the Pope to ensure his safety, while the Pope himself travels with several bodyguards.
But he admitted that he did worry about the security of the faithful who throng to see him, saying that he was described by some as being "careless" of his own personal security.
He often dives into the crowds to bless and touch the people waiting for him, as he did again in Manila.
Pope Francis confessed he had prayed to God that if something were to happen to him, that at least it didn't hurt - because he wasn't very brave when it came to pain.
It was another illustration of a down-to-earth Pope, happy to admit to his own vulnerabilities and humanity.
Climate change
Nonetheless, he continues to show that he has no fear of wading into controversial debates such as that over climate change.
In his papal press conference on board the plane, Francis was asked about climate change.
He responded that he did believe mankind was primarily responsible for it, and that he hoped this year's Paris conference would take a courageous stand to protect the environment.
"I don't know if it is all (man's fault) but the majority is. For the most part, it is man who continuously slaps down nature," he said.
His stance on this issue will be controversial, as it has long divided not just scientists, but also conservative and liberal Catholics, particularly in the US.
"We have, in a sense, lorded it over nature, over Sister Earth, over Mother Earth," Pope Francis continued.
"I think man has gone too far. Thank God that now there are voices speaking out about this."
The Pope said his long-awaited encyclical on the environment was nearly finished and that he hoped it would be published in June, ahead of the UN climate meeting in Paris in November.
He plans to spend Saturday in Tacloban, a place where nature at its most violent tore down most manmade structures - homes and offices - in Typhoon Haiyan in 2013.
There he will offer comfort to survivors and those who lost relatives amongst the more than 7,000 dead and missing.
This is the Pontiff's second trip to the region in five months, signalling the importance the Vatican places on Asia, not least on its growth potential for the Catholic Church.
It is also a place where Pope Francis believes he can make a difference, and offer hope to the poor and dispossessed, just as his namesake St Francis sought to do.