Viewpoint: Ashraf Ghani needs Pakistan help with Taliban talks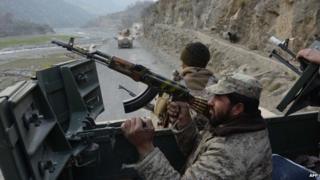 Now that Afghan President Ashraf Ghani has unveiled a new cabinet he needs to urgently talk to the Taliban - and Pakistan's generals, on whom he has staked his political future, must do more to help than they have publicly admitted to, writes guest columnist Ahmed Rashid.
Sworn in on 29 September, Mr Ghani's poll ratings were dropping furiously last week. Due to the long election period and subsequent quarrels over the result, government departments had been without a minister for nearly a year.
With his cabinet finally in place, he needs to get the ball rolling with policies and initiatives that will convince ordinary people that he leads a pro-active government determined to do good.
Mr Ghani and Pakistan's military - which controls Pakistan's foreign policy and all national security decisions - also need to move forward on getting the Taliban to the negotiating table.
The Afghan president is looked upon favourably by Pakistan's generals. This is in large part because he has avoided any anti-Pakistan rhetoric and his long stints in government never led to open hostility with Islamabad.
Even more remarkable is that Mr Ghani has so far not visited India - Pakistan's long-standing regional rival - despite organising trips to all of Afghanistan's other major neighbours, including China. He has even suspended construction of a $400m tank and aircraft refurbishing plant funded by India, while agreeing to greater military co-operation and the training of officers by Pakistan.
An overwhelming fear of Indian influence in Kabul has made Pakistan's military and spy chiefs suspicious of Afghan leaders until now and led to them supporting the Afghan Taliban in the past.
Moreover, Afghanistan has taken steps to quell Taliban influence which have so far not been replicated by Pakistan. About 1,500 Afghan troops have been battling Pakistani Taliban for more than a month in the north-eastern Afghan province of Kunar. Afghan officials say they have killed 183 insurgents and wounded another 122 in a month-long campaign that is still continuing.
It was the Pakistani Taliban based in Kunar which carried out the December bombing of the Peshawar army school that killed 150 people. The group has also been responsible for other attacks.
So far the Pakistan military have not carried out any transparent measures in trying to deter the Afghan Taliban from orchestrating attacks in Kabul and other cities, which continue unabated. Moreover, Pakistani arms dealers and smugglers are still providing logistics and war materials to the Afghan Taliban.
Nevertheless, relations between the two countries have improved dramatically. Both are now carrying out joint monitoring of their long border, and the frequent shelling between the two armies has been much reduced. There have also been numerous meetings between military and intelligence chiefs from both sides to better co-ordinate their border problems.
Intense distrust
Pakistan has said it will consider the prospect of Afghan officials meeting the Taliban once President Ghani produces a plan of action.
It is questionable whether Islamabad has enough clout to force the Taliban to the negotiating table. Many Taliban harbour intense distrust of the Inter-Services Intelligence (ISI), Pakistan's main spy agency.
However, President Ghani has made it clear that he wants access to the Afghan Taliban's Quetta and Peshawar shuras, the two leadership bodies which largely convene in Pakistan. So far there has been no progress on direct talks.
The only breakthrough has happened courtesy of the Chinese, who invited a Taliban delegation to come to Beijing when President Ghani was visiting last year. It is unclear what role the ISI played in helping the Chinese arrange that meeting, although it is well known that the Taliban delegation - mostly drawn from leaders based in Doha, Qatar - have been reluctant to come to Pakistan.
The majority of Afghans harbour enormous mistrust and even hatred for Pakistan because of its long-term support for the Taliban - something that is little understood in the military.
There are powerful voices in the former Northern Alliance - the organisation formed in 1996 to resist Taliban rule - and among Afghanistan's Pashtun leadership, who continue to berate Mr Ghani for pandering to Islamabad. They believe he is giving too much away without receiving anything substantial in return.
The Pakistani establishment needs to realise the precarious situation that Mr Ghani is in. Afghanistan is facing a chronic economic crisis, an insurgency and a new government. Unless Pakistan steps up on what it can deliver for the Afghan president, it may find itself saddled with a deteriorating security situation across the border and more militant violence at home. A lame duck Afghan president who cannot deliver because of his loss of popularity is surely not in Pakistan's interest.
General Raheel Sharif, the powerful Pakistan commander-in-chief, has insisted that the army has turned a corner - that it will root out terrorism, will not allow foreign terrorists to use Pakistani soil and will no longer differentiate between good and bad Taliban.
A major test for these words and commitments - which are a welcome change for Pakistanis - will be how soon he helps facilitate a dialogue between Kabul and the Afghan Taliban.
The delays, half-truths and procrastination that have previously been the hallmarks of Pakistan's Afghan policy are no longer possible. Given the precarious security situation in Afghanistan, the threats faced by Islamabad after the Paris terror attacks, and the impatience of the international community towards any country harbouring insurgents, a fresh approach is sorely needed.