AirAsia QZ8501: Telling it straight about missing jet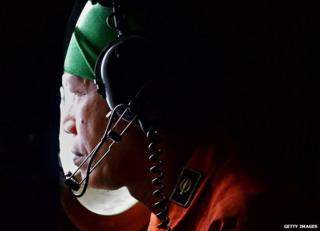 Indonesian officials are seeking to be straight with relatives of passengers on board AirAsia flight QZ8501 but a familiar agony is setting in, the BBC's Clive Myrie reports from Surabaya International Airport.
The cliche goes something like this: life in Indonesia mirrors the opaque shadow play of the country's famous puppet theatre tradition or Wayang Kulit.
Nothing is really as it seems... There are always other hidden forces at play... It is advantageous to be mysterious...
Having visited and worked in this country over many years, I always knew this was a view based more in the minds of novelists and writers than in reality.
In fact Indonesians are plain-speaking people, they say what they mean and do what they say.
This explains the words uttered by the head of the country's search and rescue agency, Harry Bambang Soelistyo, when referring to the hunt for the missing AirAsia jet, QZ8501.
"It's likely that the plane is at the bottom of the sea," he said.
With barely 24 hours since it disappeared, some might consider those words a tad insensitive.
One relative of the 162 people on board the plane said: "Of course we are hopeful, we have to keep hope alive."
Fading hopes
Indonesian officials are wearing their hearts on their sleeves.
President Joko Widodo dispelled suggestions that debris and oil from the fuel tanks may have been discovered by saying: "We have to tell it like it is... So far our efforts haven't found clarity about the plane's position."
While some relatives will keep the fire of hope burning, there is the developing, devastating realisation for others that their loved ones will not be found alive.
It is an agony that people here are beginning to get used to as time drags on and optimism and hope ebb away.
It was the same feeling 10 years ago, when so many lost family and friends to the waters of the Indian Ocean after the Boxing Day tsunami.
Commemorative services were held here just a few days ago to mark the anniversary.
Back in 2004, after tens of thousands disappeared, hope slowly faded away that they would be found alive.
In fate's hands
Perhaps the father of Captain Iriyanto, the man at the controls of the AirAsia plane, has the best way of coping with the grief of all this - at least, the best way for him. Stoicism.
On Monday he said he wanted his son to come back alive, but that if it was not meant to be, if God did not want it, it was in fate's hands.
He had already lost a son to diabetes just seven days ago, and the last time he saw Iriyanto was at the funeral.
So far there have been none of the outpourings of anger from relatives at the authorities that the world witnessed after the Malaysian Airlines plane MH370 disappeared last March.
Then, for the relatives of those on board, there was a sense perhaps that the authorities knew more than they were letting on, that they were not being truthful.
Maybe those emotions will develop here in Indonesia as well, but so far that is not the case.
Faith in Fernandes
The plain speaking of government officials and the president might have something to do with that but I suspect the boss of AirAsia, Tony Fernandes, has a role in this too.
He is a successful businessman who turned an ailing airline into a global player, employing thousands of people.
The firm was so riddled with debt back in 2001-2002, he bought it for 24 US cents at the time. Now he is regularly compared to another maverick airline boss, Richard Branson, a buccaneer who shakes up sleepy industries.
I think people instinctively believe what Tony Fernandes says.
If he says he is heartbroken by the disappearance of this plane, he is. If he says everything is being done to find the plane, it is. People are willing to put their faith in him.
Their grief is his grief. He may be a multi-millionaire but his manner is of the people. He has even become the Donald Trump or Alan Sugar figure in an Asian version of The Apprentice.
He mortgaged his house to help get AirAsia out of debt and now many Malaysians, because of his low-cost carrier, have enjoyed their first flight courtesy of his low fares.
People seem to like him, and trust him.
Will any of this help the relatives of those on board that AirAsia flight see their loved ones again?
No of course not.
But perhaps it helps just a little to ease the pain and grief of it all?
Perhaps it helps them to believe that everything humanly possible is being done to find this plane... that there is no shadow play involved.