Thailand tourist murders: Judge postpones witness hearings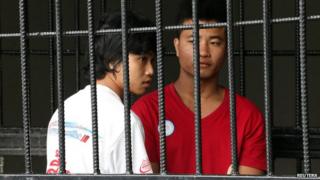 The judge in the trial of two Burmese men charged with the murder of two British tourists in Thailand has postponed witness testimony until July.
Zaw Lin and Win Zaw Htun, both 21, are accused of killing Hannah Witheridge, 23, from Norfolk, and David Miller, 24, from Jersey, on the island of Koh Tao.
The judge's decision was made during initial proceedings of the trial, in the neighbouring island of Koh Samui.
Thai prosecutors say they have a strong case. Both men deny the killings.
They could be executed if they are found guilty.
Brought forward
The bodies of Miss Witheridge and Mr Miller were found on a beach in the popular tourist destination on 15 September. Mr Miller died from drowning and a blow to the head, while Miss Witheridge died from head wounds.
According to previous court documents, both men, who are migrant workers, have been charged with conspiracy to commit murder, rape, criminal cover-up, illegally entering Thailand and staying in the country without permission.
The trial was due to begin in February but was unexpectedly brought forward, the BBC's correspondent in Bangkok, Jonathan Head, said.
Friday's ruling was made after the defence team complained they had been given insufficient time to prepare their case.
Our correspondent said it appeared to be a concession to the defence team, which has seen little of the prosecution's case against the two defendants, and is struggling to find witnesses willing to testify for them.
The investigation has been marred by allegations of both police incompetence and of confessions extracted by torture.
In October, the two men retracted the confessions they made following their arrest three months ago.
They claimed they only confessed after being beaten and threatened by police.
Defence lawyers are trying to get parts of the trial moved to the Thai capital Bangkok, said our correspondent.
They believe other Burmese migrants, who may have seen what happened on the night of the murders, will feel safer there than on the island of Koh Samui, where the trial is taking place now, he said.