Shinzo Abe re-elected as Japan's prime minister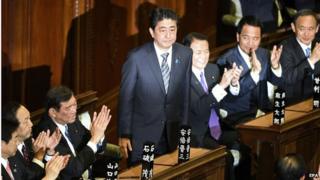 Japanese MPs have re-elected Shinzo Abe to serve another term as prime minister after his party's landslide victory in snap elections earlier this month.
Mr Abe won 328 votes against 73 in the lower house of parliament, or Diet.
After the upper house confirmed his re-appointment, Mr Abe named a largely unchanged cabinet, with the only new face Defence Minister Gen Nakatani.
The 14 December election was seen as a referendum on Mr Abe's difficult and potentially unpopular economic reforms.
His cabinet resigned en masse on Wednesday morning to pave the way for the re-election.
Confirmation was a formality as the governing Liberal Democratic Party (LDP) and its coalition partner Komeito hold a majority in both houses.
Gen Nakatani replaces Akinori Eto as defence minister.
Mr Eto is said to have declined to remain in his post after being embroiled in a political funds scandal in September, shortly after Mr Abe's last reshuffle.
Low voter turnout
Mr Abe had called a snap election for the lower Diet to seek a new mandate. The ruling coalition won a two-thirds majority amid a low voter turnout.
Observers attributed the win largely to the lack of a real political alternative with the opposition in disarray. Many voters were bemused by the snap election.
Central to the election campaign were Mr Abe's controversial economic policies, known as "Abenomics", which are aimed at ending deflation in the country.
Japan saw an initial burst of growth shortly after he was elected in 2012, but the imposition of a sales tax hike in April saw growth slump. Japan entered a technical recession this quarter.
Mr Abe plans to delay a second increase in the sales tax which was originally scheduled for 2015.
After the LDP won the parliamentary elections earlier this month, Mr Abe admitted that "there are still a lot of people who are still not feeling the benefits" but promised that his economic policies, once they were fully realised, would bring benefits to Japan.