More executions after Peshawar school massacre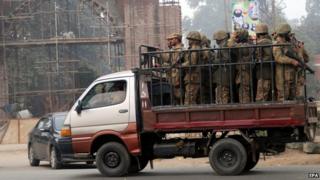 Pakistan has hanged four prisoners, the second set of executions since a death penalty moratorium was lifted after the Peshawar school massacre.
The four men were convicted of involvement in a plot to assassinate then President Pervez Musharraf.
One of those executed had dual Pakistani-Russian citizenship.
On Friday, Pakistan executed two convicts. This followed the Taliban attack on the school that left 141 people - 132 of them children - dead.
The Taliban said the raid on 16 December was in revenge for an army offensive in the north-western region near the border with Afghanistan.
UN plea
The four prisoners were executed in a jail in the central city of Faisalabad on Sunday, amid tight security.
The convict with dual Pakistani-Russian nationality was named as Akhlas Akhlaq.
Three other men were identified by Pakistan's media as Ghulam Sarwar, Zubair Ahmed and Rashid Tipu.
Russia's foreign ministry said in a statement it had tried - but failed - to delay the execution of Akhlas Akhlaq.
The failed assassination attempt on Pervez Musharraf took place in 2003.
Pakistan imposed a de facto death penalty moratorium in 2008.
The new executions come despite calls by the UN not to resume them.