Japan 'could preserve' damaged 2011 tsunami sites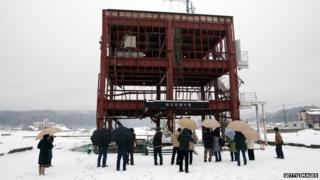 A panel in Japan has put forward a plan to protect four buildings damaged by the 2011 tsunami and earthquake.
The buildings in Miyagi prefecture include an elementary school which was hit by fire and a near-destroyed government office building.
An advisory panel recommended the prefectural government conserve the structures, Kyodo news agency reported.
More than 18,000 people were left dead or missing following the 9.0 magnitude earthquake and the resulting tsunami.
The Minamisanriku office for anti-disaster measures was stripped down to its steel frame following the disaster on 11 March 2011.
Forty-three people in the building died. The structure has since been the site of memorial ceremonies in the town.
Kadonowaki Elementary School in Ishinomaki city, which was hit by the tsunami and by fire during the disaster, has also been recommended for conservation.
However, the move could be met with criticism, as some of the families of those who died have called for the removal of the buildings.
The panel will submit a formal recommendation to Miyagi's governor in January.