Media mourn Pakistan's 'blackest day'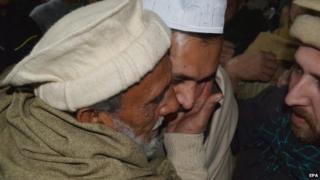 "Pakistan's school of sorrow", "Peshawar school of carnage" and "Massacre of the innocent" - these headlines in Pakistani papers very much sum up the nation's mood after a Taliban attack at a school killed at least 132 children and nine staff.
Gunmen went from classroom to classroom on Tuesday at the military-run school in Peshawar city, shooting pupils and teachers where they found them, according to survivors.
Papers say Pakistan has seen a number of militant attacks in the recent past, but this attack on schoolchildren is unprecedented.
Most TV channels, websites and newspapers have expressed shock at the Taliban's horrific act, with many describing it as one of the worst terror attacks in the country.
"It was an attack so horrifying, so shocking and numbing that the mind struggles to comprehend it. Helpless schoolchildren hunted down methodically and relentlessly by militants determined to kill as many as quickly as possible," the Dawn newspaper says in an editorial.
The paper seems alarmed at the "sheer scale of yesterday's attack" even "in a society where violence is depressingly endemic and militant attacks all too common".
For the Express Tribune, the "tragedy in Peshawar is a tragedy for the whole of Pakistan".
'National tragedy'
Many editorial writers say the attack on innocent children qualifies as Pakistan's worst national tragedy since its inception in 1947.
"This national tragedy, which has caused unimaginable grief and pain across the landscape, will not and must not be forgotten anytime soon," says The Nation in an editorial.
---
---
---
---
Some papers seem to be struggling to find words to express the "shock and horror" that the attack has caused in Pakistan.
"What does one say when children are mowed down while taking an examination at their school? What does one say about those who use guns, grenades and bombs to kill those children? What does one say about a country where all this happens? We are left with very little to say," says The News.
Even TV presenters seemed shocked while reporting the incident on Tuesday. One of the anchors for Geo News said that this "massacre has to stop, enough is enough".
The Daily Times too says "there are times when the barbarity we witness is so gut wrenching and horrific that we are left without words".
'We are at war'
Some papers blame the government's faulty anti-terror strategy for the attack and question its pledges to fight terrorism.
"The questions about yesterday's attack can go on endlessly. They should. But what about the state's willingness and ability in the fight against militancy? Vows to crush militancy in the aftermath of a massive attack are quite meaningless," says the Dawn newspaper.
Some editorial writers say the military and the government need to reassess their anti-terror strategy.
"The government and military must understand once and for all that we are at war....What is needed is a proper counterterrorism strategy that will pre-empt terror attacks before they happen," urges The News.
Urdu paper Daily Express says "the operation against terrorists should be taken to its logical end. No concession should be made with terrorists and their supporters. Sometimes hard decisions need to be taken for saving the country".
Another Urdu daily Nawa-i-Waqt says "the national political leadership should ignore their personal and political differences for the supreme national interest and get united against terrorism".
Survivors' trauma
Newspapers have also highlighted the trauma of those students who survived the attacks.
"Our trainer told us to lie down on the floor," the Dawn newspaper quotes Mohammad Zeeshan, a student in the seventh grade, as saying.
Zeeshan said the militants shot students in the head from close range.
"They killed our class fellows and then left us in the main hall. I received a bullet in my foot," he added.
---
---
Another student Shahrukh Khan, 16, said that "someone screamed at us to get down and hide below the desks".
"Then one of them shouted: 'There are so many children beneath the benches, go and get them'. I saw a pair of big black boots coming towards me, this guy was probably hunting for students hiding beneath the benches," Khan told the AFP news agency.
His testimony has been reprinted by many Pakistani papers including The Nation.
"My body was shivering. I saw death so close and I will never forget the black boots approaching me - I felt as though it was death that was approaching me," he said.
"The men left after some time and I stayed there for a few minutes. Then I tried to get up but fell to the ground because of my wounds. When I crawled to the next room, it was horrible. I saw the dead body of our office assistant on fire," he added.
Grief on Twitter
Twitters users in Pakistan have been expressing solidarity with the families of the victims.
PeshawarAttack, #CrushTTP, #PrayForPeshawar and #WeStandWithPakistanArmy are some of the top hashtags that have been trending in Pakistan since Tuesday.
The hashtags have been used to express shock, solidarity and anger at the tragic incident.
---
---
---
Others, meanwhile, are demanding the government to take immediate action against Taliban militants currently imprisoned.
---
BBC Monitoring reports and analyses news from TV, radio, web and print media around the world. You can follow BBC Monitoring on Twitter and Facebook.