Sydney siege: Uneasy crowds at scene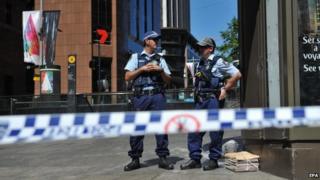 It should have been a busy shopping day, just 10 days from Christmas.
But hours after several people were taken hostage in a cafe in Martin Place, the streets around Sydney's central business district were deserted of cars and much of the retail sector had closed down.
There was no panic on the streets but there was a sense of unease.
Staff were evacuated from buildings adjoining that of the Lindt cafe, where people are believed to have been taken hostage, and companies blocks away from the scene were telling their staff not to leave their offices.
There were dozens of police cars and police vans at the scene, with more arriving as each hour passed.
At one point, heavily armed police wearing body armour were seen running away from the building only to return about five minutes later. They then surrounded a door that led from the building onto Elizabeth Street.
Several city blocks were barred by police cars and tape, and from time to time sirens could be heard.
Surreal atmosphere
The area around the siege is home to many of New South Wales' most important institutions including the NSW Parliament, the State Library of NSW and the Reserve Bank of Australia.
The Supreme Court of NSW is a block away and the area is full of law chambers and solicitors offices.
Martin Place divides Sydney's central business district east-west so the siege disrupted traffic in several directions. Trains on the Eastern suburbs line could not stop at Martin Place.
The atmosphere in Martin Place itself was surreal. Office workers who had been evacuated from their buildings, construction workers from building sites and tourists packed the pedestrian plaza one block away from the Lindt coffee shop.
Rosemary D'Urso Healion, an employee of Frederick Jordan Chambers on Martin Place, had just come out of the Martin Place subway station and was walking to her office when she saw that it was blocked by police. Then she saw the police close down the subway station.
"I work in that building [where the siege is taking place] and I was just about to go in," she told the BBC, adding that she had been in contact with some of her colleagues who were in the building but not being held hostage in the cafe.
She remained at Martin Place for several hours anxiously watching a police operation that appeared to be aimed at getting some of her colleagues out via a ladder erected on a wide window ledge on the first floor of the building.
'Watched around the world'
As the morning progressed people took photos of the police and some took pictures of themselves in front of the crowds.
Stories and rumours were swapped about what had taken place earlier that morning.
The identity and exact motivation of the hostage-taker are currently not known. But a fight broke out between two men - one of whom was delivering an anti-Islamic rant - that was filmed by the media but quickly defused by the police.
Japanese tourist Stefania Kikuchi was about to start her last day in Sydney after a week's holiday here when she saw a commotion in Martin Place.
"I thought it must have been some kind of festival and I asked an old lady who told me it was a terrorist attack," she said.
Like many others, she remained at the scene for several hours taking photos.
A young office worker who declined to be named arrived early on the scene. When he went to his nearby office block he found it was being evacuated but decided to stay in Martin Place.
"This will be important for people around the world," he said.