Typhoon Hagupit in pictures and tweets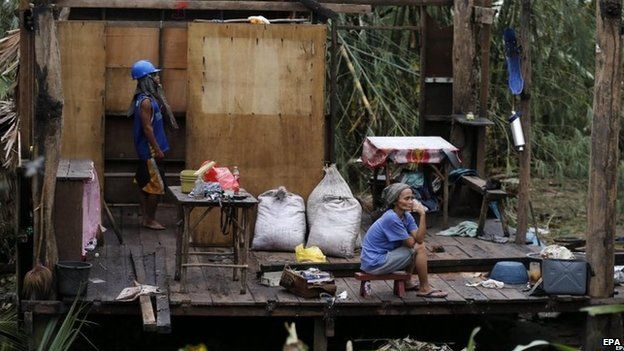 Typhoon Hagupit is continuing its slow sweep across the Philippines, bringing heavy rain and winds gusting at up to 150 km/h (93 mph).
Officials say at least three people have been killed in the south, but a massive evacuation operation has meant the casualties were far lower that feared so far.
Hagupit - known in the Philippines as Ruby - is now bearing down on the capital, Manila, and thousands are moving away from areas vulnerable to flooding.
This was Atimonan town, south of Manila, on Monday morning.
While facilities in emergency shelters are often basic and there is only a floor to sleep on, they are far safer that the flimsy homes of many coastal communities. These children and their families were in a centre near Manila.
There is a limit on what people can take into evacuation centres, so people have to rely on what the authorities provide. Here, people sort through a pile of donated clothing.
Hagupit comes one year after Typhoon Haiyan, which caused massive devastation and killed around 7,000 people. The authorities said this time they were aiming for zero casualties.
This was the size of the storm as it bore down on the Philippines - it was about 600km (370 miles) across, meaning that about 50 million people, half the nation's population, were in its path.
Terry W Virts, an astronaut on the International Space Station, on Monday tweeted this picture of Hagupit from some 430km (268 miles) above Earth.
On Monday, people began returning home to see what damage had been done. The BBC's Saira Asher in Legazpi in Albay province sent this picture of anxious evacuees boarding a military bus to travel home.
This was the scene in the grounds of the evacuation centre on Monday. Though the shelter itself remained dry, the yard and its Christmas tree were inundated.
BBC producer Lucas de Jong tweeted this picture of the team's set-up for live reports at the centre, saying: "At least it's not raining."
This family, with the BBC's Jonathan Head outside Legazpi, were smiling despite losing the roof of their home overnight.
Despite the continuing rain, these people had begun clearing up in their coastal village close to Legazpi on Monday morning.
The strong winds of Typhoon Hagupit - gusting up to 250km/h overnight on Saturday and on Sunday - flattened housing and tore down trees and power lines.
In Tacloban, the coastal town which bore the brunt of Haiyan last year, many people still live in make-shift accommodation and infrastructure has not returned to normal.
As Hagupit approached on Saturday, the BBC's Maria Byrne tweeted from Tacloban:
The BBC's Rupert Wingfield-Hayes said Tacloban was a ghost town, as everyone sought shelter in strong buildings.
But despite what our correspondents said was a terrifying night for residents, on Sunday morning it was clear that the damage was far less than feared.
The mayor of Tacloban, Alfred Romualdez, told the BBC that many lessons had been learned from Haiyan.
In Borongan, on the opposite coast of Samar island to Tacloban, there was still no electricity on Sunday, but people were in the flooded cathedral giving thanks for their survival, as Rupert Wingfield-Hayes reported.
This was the scene on Sunday in Borongan city as residents battled raging floodwater from a sea surge.
Buildings were brought down in Borongan by the force of the wind and storm surge.
The BBC's Jonathan Head was in a village just outside the city of Legazpi, and said preparations appeared to have paid off.
Despite the evacuation order, some people had chosen to stay put during the storm.
The BBC's Saira Asher spoke to 70-year-old Hermanigilda Abril, who said her 90-year-old mother was too sick to be moved from their home in Cawayan on the outskirts of Legazpi.
"We are afraid but we don't have a choice but to stay," she said.
The family's house was solidly built so they took in other people who had stayed behind but had flimsier homes. Hermanigilda Abril said no-one slept on Saturday night.
The BBC's Lucas de Jong sent this image of Jonathan Head and the team working in the village on Saturday.
On Monday, Isabela Illado began the work of drying out clothes and belongings in Dolores, close to where Hagupit had made landfall on Saturday night.
The mayor of Dolores, Emiliana Villacarillo, told Reuters that almost 100% of rice fields had been submerged by the tidal flooding.
"Our farmers will have to go back to square one and plant again," she said.