UK journalist guilty of querying Bangladesh death toll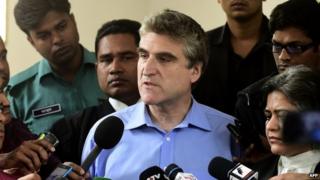 A court in Bangladesh has found a British man guilty of contempt for challenging the official death toll from the 1971 war of independence.
Judges said a 2011 blog post by David Bergman deliberately distorted history.
He was ordered to pay a fine of $65 (£40). If he failed to pay that, he would be imprisoned for seven days.
Officials say three million people died in the bloody war of independence with Pakistan. Mr Bergman said there was no evidence to support that.
After nine months of internal strife and a Pakistani military crackdown against Bangladeshi separatists, the intervention of India in the war was swift, brutal and decisive. It brought the conflict to an end in just 13 days.
The defeat of the Pakistani army on 16 December 1971 was a triumph for India and the Bengali insurgents it had assisted.
There are different estimates for the number of people killed.
The Bangladeshi government has consistently said three million died, but others, including Mr Bergman, argue that figure is too high and unverifiable.
---
Bangladesh independence war, 1971
Civil war erupts in Pakistan, pitting the West Pakistan army against East Pakistanis demanding autonomy and later independence
Fighting forces an estimated 10 million East Pakistani civilians to flee to India
In December, India invades East Pakistan in support of the East Pakistani people
Pakistani army surrenders at Dhaka and its army of more than 90,000 become Indian prisoners of war
East Pakistan becomes the independent country of Bangladesh on 16 December 1971
Exact number of people killed is unclear - Bangladesh says it is three million but independent researchers say it is up to 500,000 fatalities
---
Emotional issue
Delivering his verdict, judge Obaidul Hassan said that freedom of expression should be exercised in "good faith and [the] public interest".
"David Bergman neither has good faith nor an issue of public interest," he ruled.
The journalist has lived in Bangladesh for 10 years. He is an editor of the Dhaka-based English language New Age newspaper.
Correspondents say the verdict underlines just how important and emotional an issue the death toll of the independence war is in Bangladesh.
In 2010 the Awami League government of Prime Minister Sheikh Hasina set up a special tribunal in Bangladesh to look into atrocities carried out during the war of independence.
Last month Mir Quashem Ali, a leader of Bangladesh's largest Islamic party, became the second leader from the party to be sentenced to death for war crimes.
Critics of the controversial tribunal have accused the government of using it to target political opponents. Human Rights Watch has previously said the court's procedures are not up to international standards.
But the Awami League says it is necessary to help the country come to terms with its past.