Why furious fightback sisters gripped India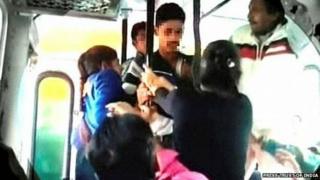 Two sisters who were filmed beating up men who were allegedly sexually harassing them on a bus in India, have been met with a chorus of adulation on social media. Within 24 hours the sisters became celebrities.
Here campaigners and commentators explain why the raw anger of the footage ignited India.
The video puts you in the bus
The perspective of the footage puts the viewer right inside the bus, another onlooker. The scene is shockingly intimate as the sisters begin lashing out at their alleged tormentors.
"Suddenly on your screen you are confronted with what happens every day," says Hanif Lakadawala, visiting professor of mass media at Mumbai University.
"The women who experience these humiliations are watching it, their parents are watching it," he says.
It happens to you - or you see it happen - all the time
"Eve teasing" - where women are harassed in public by men - is all too frequent. Alisha Sharma and four fellow students began the Chappal Marungi campaign years ago, encouraging women to boldly resist.
"It is part and parcel of our lives. We cannot escape it. It often happens in crowded places: stations, buses, places where people are around," Ms Sharma told the BBC.
"If I raise my voice, there are people around to support me. If you don't stand up for yourself, nobody will."
Although the campaign uses the symbol of a slipper as a weapon, she says it is only a metaphor for resistance and does not condone violence.
Since the 2012 gang rape and murder on a Delhi bus, gender issues have come to the fore and some women won't remain silent.
The humiliation of harassment was reversed
"There is something about how quickly people are thrilled by the idea of on-the-spot justice," says women's rights campaigner Kavita Krishnan.
"I think these girls showed great courage. Most of us have experiences of having reacted on the spot. I think it's all too common - and it is not just India."
She points to the satisfaction women get from the Stieg Larsson Millennium series of books which have now been made into Hollywood films.
It tells the story of a woman who nobody expects to act responding through vigilante action and with spectacular success.
And nobody stood up for the sisters
There was a sense of deja-vu in that most fellow passengers did nothing, says BBC Hindi's Rupa Jha who has had similar experiences,
"Twenty years down the line… it's exactly the same. People do nothing.
"I was coming back in a bus and I got down at a very busy road in Delhi in the early evening. There was a young guy and in a very posh English accent, he asked me something. I got closer and then I realised what he was saying:
"'Do you know what ejaculation is?' He repeated his question.
"It was very infuriating and very scary.
"I slapped him and then he slapped me back. I held him by his collar. When the scuffle started, there were 50 people - not a single one intervened. I was hitting him and he was hitting me.
"Ultimately I called the police."
But it also showed how society doesn't work
"The ease with which we are willing to hail this vigilante action is matched only by our unease as a society which acknowledges autonomy for women in every day circumstances," says Kavita Krishnan.
This speaks to a failure in society, in social and institutional processes, she argues. The fact that they had to resort to violence shows something isn't working.
"I'm not one of those who is comfortable with vigilante action, especially when women aren't doing it for themselves."