Afghan suicide blast 'kills nine' in northern Baghlan province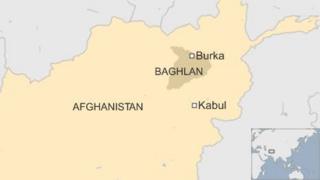 At least nine people have been killed in a suicide blast targeting a funeral in Afghanistan's northern province of Baghlan, police say.
They said two policemen and seven civilians were among the dead, with 20 others wounded.
The attacker hit the funeral ceremony of a tribal elder in Burka district.
It follows a recent spate of attacks in the capital Kabul, as Afghanistan prepares for the withdrawal of most foreign troops this month.
On Sunday, Afghan President Ashraf Ghani ratified security deals allowing a new Nato force of about 12,000 to remain to focus on training, advising and assisting the Afghan security forces.
It is not yet clear which group was behind Monday's attack.
Unknown target
The governor of Burka district, Taj Mohammad Taqwa, attended the funeral with the district police chief and several other local officials.
"After the funeral was finished we started to leave the place as we walked about 100 metres from the spot we heard an explosion," he told the BBC.
"We don't know for sure who the target was, it could be us but we luckily survived," he added.
Some 1,000 people were reportedly attending the ceremony.
A surge in insurgent attacks over the past month, targeting Afghan forces, foreigners and civilians, has raised concerns about whether local Afghan forces will be able to protect the country as the bulk of foreign forces depart.
Three South Africans were killed in a Taliban attack on a compound used by a US-based charity on Saturday, the third such attack on foreigners in 10 days. Dozens of Afghan civilians and soldiers have also been killed and injured in recent attacks.
In a separate attack on Saturday, officials say 12 Afghan soldiers were killed at a military base in Sangin in Helmand province.
It followed an earlier Taliban attack on the camp formerly known as Camp Bastion in the same province, one month after it was vacated by British forces, killing five Afghan soldiers.