Pakistan killing: Funeral for slain cleric in Parachinar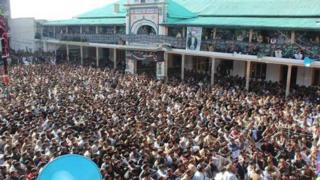 Thousands of mourners have attended the funeral of murdered Shia cleric Allama Nawaz Irfani in the Kurram tribal district of north-west Pakistan.
Mr Irfani was gunned down in Islamabad late on Wednesday night. He led a successful armed campaign in 2008 to evict Taliban militants from Kurram.
Kurram is a Shia area, in majority Sunni Muslim Pakistan.
Witnesses told the BBC that Parachinar town in Kurram where his body was brought, was thronged with mourners.
All markets in Parachinar were shut and traffic was off the roads as local elders called for three days of mourning.
No group has said they carried out the killing.
The administration of Kurram expelled Mr Irfani from the region in February after a dispute broke out between him and a local election candidate over the results of the 2013 elections in the area. He had since been living in Islamabad.
The BBC's M Ilyas Khan in Islamabad says he was the main leader of a tribal militia that frustrated attempts by the Pakistani Taliban to control Kurram during 2007-8.
Later the defeated Taliban groups blocked the only exit route from Kurram into the rest of the country, cutting it off for nearly two years.