Bangladesh war crimes: Ex-ruling party official found guilty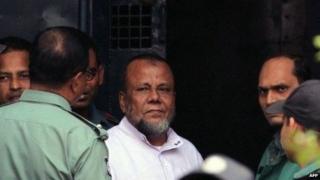 A tribunal in Bangladesh has sentenced a former Awami League official to death for war crimes during the country's war of independence from Pakistan.
It is the 14th death sentence passed by the tribunal but the first against someone linked to the PM's party.
Mobarak Hossain, 64, was found guilty of murder, abduction and torture, during the 1971 war.
At the time he was with the country's largest Islamist grouping, the Jamaat-e-Islami, which opposed independence.
Critics have said the government is using the war crimes tribunal to target political opponents.
Human Rights Watch has previously said the court's procedures are not up to international standards.
---
Bangladesh independence war, 1971
Civil war erupts in Pakistan, pitting the West Pakistan army against East Pakistanis demanding autonomy and later independence
Fighting forces an estimated 10 million East Pakistani civilians to flee to India
In December, India invades East Pakistan in support of the East Pakistani people
Pakistani army surrenders at Dhaka and its army of more than 90,000 become Indian prisoners of war
East Pakistan becomes the independent country of Bangladesh on 16 December 1971
Exact number of people killed is unclear - Bangladesh says it is three million but independent researchers say it is up to 500,000 fatalities
---