New Zealand to send Ebola medics to W Africa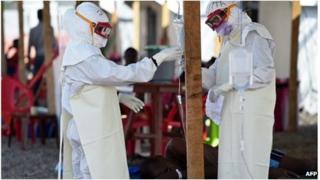 New Zealand's government has approved the deployment of 24 medical workers to West Africa to help fight Ebola.
The volunteers, backed by an investment of NZ$2m (£1m; $1.6m), will be based at the new 100-bed clinic being set up by Australia in Sierra Leone.
New Zealand also committed NZ$1m to a WHO fund to help Pacific nations prepare for a potential outbreak there.
More than 5,000 people have been killed in the current Ebola outbreak - almost all of them in West Africa.
The World Health Organization (WHO) has declared the outbreak a global health emergency. Sierra Leone is one of the three worst affected countries, along with Liberia and Guinea.
Health Minister Jonathan Coleman said all the New Zealand staff would be volunteers and would stay for between six and 12 weeks.
He said the government was taking their safety "very seriously" and anyone in the delegation falling ill would be evacuated if necessary, the New Zealand Herald reports.
"If the developed world fails to act, case numbers will exponentially increase, with devastating consequences for long term stability in Africa," he said.
New Zealand has committed a total of NZ$5m to the crisis.
Foreign Minister Murray McCully said there was only a very low chance of the disease reaching the Pacific but that the consequences if it did would be "devastating".
Ebola was first identified in Guinea in March, before it spread to neighbouring Liberia and Sierra Leone. The WHO says there are now more than 13,240 confirmed, suspected and probable cases, almost all in these countries.
Cases have also emerged, though on a much smaller scale, in Nigeria, Senegal, Spain and the US, as well as in Mali.
Earlier this month, Australia contracted a private medical company to run a clinic in Sierra Leone.
Australia, which had been criticised domestically for its response to the outbreak, committed funds of A$20m (£11m; $17m) to the centre, which is being built in the UK.