Three held over Pakistan hospital 'gang rape'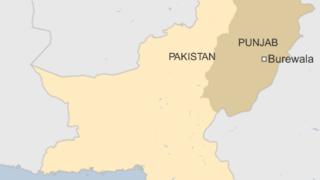 Three men accused of drugging and gang-raping a female patient at a government hospital in the Pakistani province of Punjab have been arrested, police say.
The men being held are health department employees, officials say.
The woman was at the hospital in the Burewala area with her husband and new baby for a check-up on 11 November.
Her husband says he left her for 15 minutes but when he returned she had disappeared leaving her baby and purse. He later found her in a hospital room.
He told BBC Urdu's Shumaila Jaffrey in Lahore that after three hours of searching, he made a complaint to the police. He then returned to the hospital to continue the search.
"I didn't leave any room or washroom, I went downstairs, and saw a room. I was afraid to go inside, one of the mirrors on the door was broken, and someone had put a wooden bench in front of it. I pushed it, went inside.
"It was completely dark, there was no light. I saw my wife lying on a stretcher. She was not in her senses, I brought her home," he said.
He said that his wife told him three men had given her an injection and that she had been raped.
Police told the BBC the woman is being cared for by doctors and that blood tests and DNA tests are under way.