What is Asean?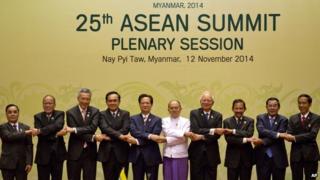 The Association of South East Asian Nations (Asean) is a 10-member international body that represents more than 500 million people living in the region.
Set up in 1967 in Bangkok by Thailand, Indonesia, Malaysia, the Philippines and Singapore, it has since been joined by Brunei, Laos, Vietnam, Myanmar and Cambodia.
The Asean Summit was an annual affair until 2009, when leaders began meeting twice a year. Member countries take turns every year to chair the two meetings.
During the year-end meeting, the country chair also hosts the East Asia Summit which is a forum attended by Asean and the leaders of China, India, Australia, New Zealand, South Korea, Japan, Russia and the United States.
What was Asean set up to do, and what has it achieved?
Asean aims to promote collaboration and co-operation among member states, as well as to advance the interests of the region as a whole, including economic and trade growth.
It has negotiated a free trade agreement among member states and with other countries such as China, as well as eased travel in the region for citizens of member countries.
Asean claims the opening up of Myanmar (also known as Burma) as one of its more significant recent achievements, having pursued a policy of constructive engagement and non-confrontation.
Asean also promotes peace and stability in the region. Members have signed a treaty pledging to not have nuclear weapons, and most have agreed to a counter-terrorism pact which includes sharing intelligence and easing the extradition process of terror suspects.
In the past decade, Asean has deepened co-operation on regional terror threats such as Jemaah Islamiyah, the South East Asian arm of Al-Qaeda which claimed responsibility for the 2002 Bali bombings.
Asean calls for Burma sanctions to be lifted
Asean leaders approve Burma chairmanship bid
What are its biggest challenges?
The escalating South China Sea territorial dispute has emerged as a challenge to the unity of the bloc.
The Philippines, Vietnam, Malaysia, Brunei and Indonesia have overlapping claims with China - which says a U-shaped swathe of the sea is its territory and is increasingly assertive on the issue.
At the July 2012 summit held in Phnom Penh, Asean failed to issue a joint statement for the first time in its history when member countries could not agree on how to deal with China. What complicates matters is that some members, such as Cambodia, are seen to be close allies of China.
Asean has long been discussing drawing up a code of conduct to be signed with China governing disputes in the South China Sea, but Beijing is reluctant to sign on to a multilateral agreement.
Critics have also portrayed Asean as being big on words and short on action, driven by the desire for consensus among its members.
Its staunch support for the principle of non-interference has reinforced regional stability and, paradoxically, authoritarian governance, despite commitments to promoting human rights and democratic ideals.
Asean fails to reach agreement on South China Sea
Why is this year's summit in Myanmar important?
This year's summit is notable as it is the first time Myanmar is chairing the summit, which the group has called a "momentous" occasion.
It agreed to forego its turn to chair in 2006 as some members feared the country - which was still under military rule - would damage Asean's standing if it did so.
Elections in November 2010 replaced military rule with a military-backed civilian government, and since then a reform process has been underway. But critics say political reforms have stalled in recent months.
UN Secretary-General Ban Ki-moon, who is attending the summit, has also expressed concern about discrimination against the Rohingya minority.
At this summit, Asean is discussing anti-Ebola measures and the prevention of Asean citizens from aiding the Islamic State.