Flight MH17: Mark Rutte vows justice in Malaysia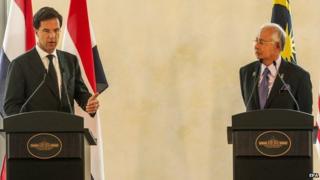 Dutch Prime Minister Mark Rutte has vowed to bring those responsible for the MH17 crash to justice.
He was speaking a joint press conference in Malaysia with his counterpart, Najib Razak.
Arriving on Malaysia Airlines flight MH19 - which replaced MH17 - Mr Rutte's one-day visit is to discuss the criminal investigation.
The Boeing 777 flight was flying from Amsterdam to Kuala Lumpur when it crashed in rebel-held eastern Ukraine.
Both rebels and their supporters in Russia have denied shooting it down.
All 298 passengers and crew on board were killed. They included 193 Dutch nationals and 43 Malaysians.
Investigators have struggled to gain access to the site as clashes continue nearby between Ukrainian government forces and pro-Russian separatists.
After talks, Mr Rutte and Mr Razak stressed their commitment to work together and agreed Malaysian investigators must also be given access to the crash site.
Economic relations between the two countries have traditionally been strong - the Netherlands is the second largest Eurozone investor in Malaysia.
"Malaysia is committed to bring the perpetrators of MH17 to justice, and we must do everything possible to ensure that justice is done," Mr Razak said.
A report issued in September by Dutch investigators found MH17 was hit by multiple "high-energy" objects.
The report did not apportion blame but it is believed to have been hit by a surface-to-air missile fired from an area controlled by pro-Russian rebels.
Russian officials have denied the allegations and instead suggested Ukrainian fighter jets were culpable.
Mr Rutte travels onwards to Australia to meet Prime Minister Tony Abbott, who has vowed to confront President Vladimir Putin at the forthcoming G20 summit in Brisbane.
Thirty-eight Australian citizens also perished in the crash.