Singapore imposes visa rule for West Africa Ebola nations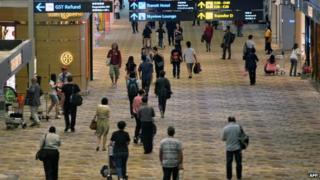 Citizens of West African countries where Ebola is prevalent will require a visa to enter Singapore from Wednesday.
The health ministry said the visa requirement for those from Guinea, Liberia and Sierra Leone would allow for better oversight and tracing.
Authorities have been cautious of a possible outbreak in the city-state and major transport hub, which was hit by the Sars virus in 2003.
Ebola has claimed more than 4,900 lives in West Africa.
Singaporean media have reported at least two suspected cases of Ebola, though both were found not to have the disease.
One, a Nigerian woman, was later found to not have had any contact with Ebola patients and was discharged. The other person had a fever after travelling to an affected area but was diagnosed with tonsillitis.
Singapore's visa move follows Australia's announcement last week that it was suspending entry visas for Ebola-affected countries, prompting condemnation from Sierra Leone and rights group Amnesty International.
A World Health Organization official has told the BBC that there has been a "slowing down" in the number of cases cropping up in some of the affected areas in West Africa.
Ebola deaths
Figures up to 13 January 2016
11,315
Deaths - probable, confirmed and suspected
(Includes one in the US and six in Mali)
4,809 Liberia

3,955 Sierra Leone

2,536 Guinea

8 Nigeria
Getty