In pictures: Kabul's battle-scarred Darul Aman palace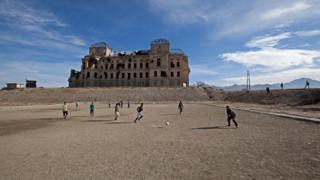 On the very edge of Kabul, the Darul Aman Palace was once one of Afghanistan's most majestic and ornate buildings.
It is now derelict, humbled from its 1920s splendour by years of civil war. Photographer Nazes Afroz documents the "Wounded Palace".
King Amanullah, who defeated the British in 1918 to gain full independence for his country, had the palace built in the neo-classical European style in the early 1920s. The majestic front of the building is still almost intact.
The palace was gutted in a fire before being restored in 1969 and housed the defence ministry in the 1970s and 1980s.
After the fall of the communist government in 1992, the palace was taken over by one of the mujahideen militias when civil war broke out. One of the front walls still bears various bullet-marks along with graffiti that reads "Death to the infidels".
The columns of the palace, though wrecked by heavy shelling and fighting, still stand tall.
The grand circular staircases of Darul Aman were made of marble. Different visitors, possibly from the civil war years, have left their names inscribed on the walls.
Evidence of war graffiti can be found on the walls. It may never be known who drew them, but it is safe to assume that they had seen battles with tanks and helicopters.
Mangled iron structures from a roof devastated by heavy shelling can be seen hanging from the pavilion around the semi-circular main hall.
From the ruins of the palace, one can see new townships growing on the fringes of Kabul city.