Nepal plans to tighten rules on trekkers and guides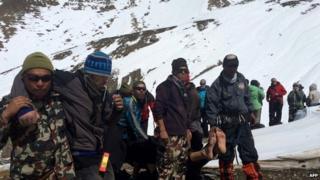 Officials in Nepal say they plan to introduce tougher controls of the trekking industry, a week after a devastating Himalayan storm.
In future, all trekkers will be required to register before setting out on the Annapurna circuit, they told reporters.
Only properly trained and accredited guides will be able to lead treks.
At least 41 people died in the country's worst ever trekking disaster, raising questions about procedures.
'No trekking without porters'
Addressing journalists in the capital, Kathmandu, the director general of the Department of Tourism, Tulasi Gautam, said one reason the number of casualties was so high was that many independent trekkers, walking without guides, decided to continue when the storms broke, rather than to stop and take shelter.
"We plan to enforce new rules of no trekking without porters or proper guides," he said.
In future, all trekkers must register at check posts when they enter and leave the popular trail, officials said.
The rule will apply to Nepali trekkers as well as foreign nationals. About half of those confirmed dead in the recent blizzards were Nepalis.
Surya Silwal, the Home Ministry secretary, said new mechanisms would be introduced to inform trekkers and guides about changing weather conditions.
The search and rescue operation has now ended but government teams are still trying to recover eight bodies which are thought to be buried under the snow in Manang District.
---
What is the Annapurna Circuit?
Roughly 241km (150 miles), takes around three weeks to complete
Described as "the best long distance trek in the world"
Known as the "apple pie" circuit due to the baked goods offered by tea houses along the route
Ascends to 5,416m (17,776ft) at the Thorung La Pass
Opened to tourists in 1977 after conflicts between guerrillas and the Nepalese army were resolved
Circuit passes Mount Annapurna, world's 10th highest mountain and one of the most dangerous