Pakistani Hindus ask government to give Diwali holiday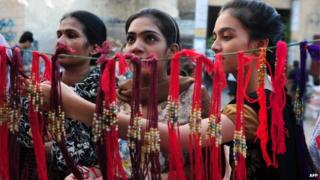 Leaders of Pakistan's minority Hindu community are calling for the festival of Diwali to be a national holiday.
A member of Pakistan's parliament, Dr Ramesh Kumar Vankwani, says he raised the issue with the Speaker of the National Assembly on Monday.
The move was a basic right for the minority community, he said, and would soften Pakistan's international image.
There are about eight million Hindus in Pakistan, constituting about four per cent of the population.
'Government not biased'
Dr Kumar, a member of the governing PML-N party and a senior figure in the Pakistan Hindu Council, told the BBC that granting a holiday on Diwali would soften Pakistan's international image.
It would also send a message to the public that the government is not biased against minorities, he added.
He also called on the government to provide Diwali bonuses to Hindus.
The majority of Pakistani Hindus live in Sindh Province and are poor, he said. But whereas some previous governments have granted annual payments to Hindus, the current government, which took office last year, has not.
There's been no response from the government. Correspondents say this isn't the first time the Hindu community has raised this issue.
Diwali will be celebrated on Thursday.