Australia in first Islamic State bombing raid in Iraq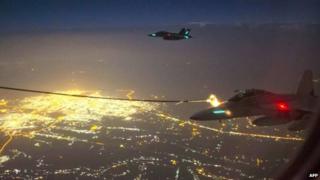 Australia has carried out its first bombing raid in Iraq on what officials said was an Islamic State facility.
Two bombs were dropped from a Super Hornet fighter jet. Authorities said all aircraft involved in the raid had returned safely to base.
Warplanes had aborted a previous airstrike over the weekend because of concerns about civilians.
Australia is part of a US-led international coalition conducting air strikes against IS militants.
The country has sent 600 troops and eight combat aircraft - comprising six Super Hornets, a surveillance aircraft and a refueler - to join the mission, which is being conducted in Iraq and Syria.
But the BBC's Phil Mercer in Sydney says Australia faces legal and diplomatic obstacles that prevent its forces from targeting militants in Syria.
Defence officials said on Wednesday that Australian jets had flown several missions over northern Iraq, without firing weapons, since Australia committed to combat last week.
'Down the track'
Prime Minister Tony Abbott has indicated that Australia may now join a ground campaign as well. He had previously said he had "no intention" of doing so, according to The Australian Broadcasting Corporation.
He noted that among the 600 Australian troops are 200 special forces soldiers who are currently advising Iraqi security forces.
He said: "We'll be in a better position to judge what might be desirable down the track once we're in there."
Mr Abbott has previously described the Islamic State as a "murderous death cult".
His government is very concerned about both the effect of Australians fighting for IS and those who sympathise with them on domestic security.
In recent weeks raids targeting terror suspects have taken place in several Australian cities and an alleged plot by IS sympathisers to kill a randomly selected Australian disrupted.
The government is also proposing a raft of measures, due for parliament's approval, aimed at strengthening anti-terror laws.
Timeline: Australia's terror threat
Phil Mercer: Australia's home-grown terror threat
Who are Australia's radicalised Muslims?