South Korea Sewol ferry trial: Captain apologises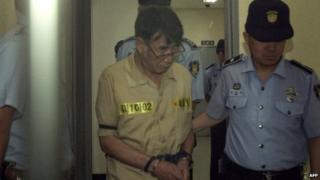 The captain of a South Korean ferry which sank with the loss of 304 lives - many of them schoolchildren - has apologised in court and admitted he was responsible for a "grave crime".
However Capt Lee Joon-seok, who could face the death penalty if convicted, denied committing murder when he appeared before a judge on Wednesday.
The Sewol ferry catastrophe in April caused shock and grief in South Korea.
Capt Lee has argued that the ship's owners are responsible for the tragedy.
On his second day in court, the 69-year-old said that he was sorry for what happened but that he was not guilty of murder.
According to South Korea's Yonhap news agency, he said he deserved the death penalty for his role in the disaster.
"But I cannot give my children and grandchildren a bad name as a murderer's relatives," he added.
Capt Lee and three other crew members are facing murder charges and stand accused of failing to protect their passengers when the ferry capsized off the south-west coast of South Korea.
Investigators said earlier that a combination of cargo overloading, illegal modification of the vessel and inexperienced helmsmanship was behind the disaster.
A less-experienced crew member was steering the ship when it made a sharp turn causing it to list sharply to one side.
The captain and some of his colleagues were among the first to clamber into rescue boats while other passengers were trapped inside.
Mr Lee had earlier told the courtroom he had been in a "confused" state during the emergency.
The BBC's Stephen Evans, who is in the city of Gwangju following the trial, said that after apologising for his actions, Capt Lee bowed to the judge, to the lawyers and finally to the public gallery.
He had earlier admitted that he should have been on the bridge when his ship started to list before overturning.
Eleven other members of the crew are facing trial on lesser charges.
A separate trial is also taking place involving officials who worked at the company which operated the Sewol, Chonghaejin Marine Co.
The man who owned the company, billionaire businessman Yoo Byung-eun, disappeared after the disaster and was later found dead.