Afghan executions: Ashraf Ghani urged to intervene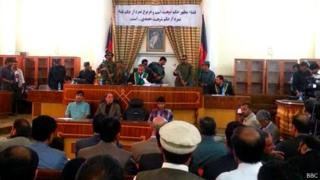 Human rights groups have urged new Afghan President Ashraf Ghani to stop the execution of five convicted rapists who are due to be hanged on Wednesday.
The men were convicted of attacking four women in Paghman town who were returning from a wedding in August.
Human Rights Watch (HRW) said the trial had seen "horrendous due process violations", including lack of evidence and allegations of forced confessions.
The case sparked national outrage and huge media interest in Afghanistan.
Activists say violence against women is prevalent in the country but that cases rarely attract this much attention.
'Political interference'
A spokesman for the Afghan attorney-general's office told AFP news agency that the executions would be carried out on Wednesday.
"It is set to happen, unless there is a last-minute change in the decision," Atta Mohammad Noori said.
Amnesty International called on the executions to be stopped, claiming the trial was "marred by political interference".
"President Ghani should commute these and all other outstanding death sentences, and impose an immediate moratorium on all executions, as a first step towards abolition of the death penalty," Amnesty said in a statement.
Similarly, HRW urged the new president to order an independent review of the case.
"President Ghani has called for a review of Afghan's justice system, but he has an immediate opportunity to stop a grave miscarriage of justice," it said.
Robbed and attacked
Before the start of the trial, Hamid Karzai, President of Afghanistan at the time, urged the Supreme Court to hand down a death sentence for the men.
Mr Karzai then signed their death warrants just before he left office last week.
Police said the men were wearing police uniforms when they stopped a convoy of cars near Paghman, a town near Kabul. The men pulled out four of the women, separated them from their husbands and robbed and attacked them. One of the women is believed to have been pregnant.
The attack involved seven men in total. All seven were convicted of armed robbery, for which they received life sentences, while five were also convicted of rape.
The men are due to be hanged at the Pul-e-Charkhi prison east of Kabul on Wednesday.
A sixth man, convicted kidnapper Habib Istalef, is also due to executed there at the same time.
His arrest and conviction is not related to the Paghman gang.