US drone 'kills eight militants' in Pakistan's North Waziristan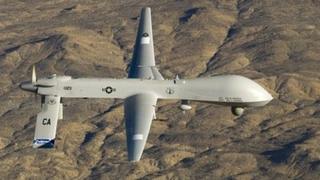 A US drone strike has killed at least eight people in Pakistan's volatile tribal region of North Waziristan, officials say.
Reports say two missiles hit a house and a car in the Shawal region late on Monday.
It is the fourth drone strike to hit the tribal area in the last two weeks. The latest attack was on Sunday when missiles killed at least five people.
The army launched an operation against militants in the area in June.
The region has long been used as shelter by Taliban and al-Qaeda-linked militants and has frequently been targeted by US drones.
Some reports say that the latest strike targeted a local Taliban commander but these reports could not be verified as journalists have no access to the area.
For almost a decade, American drone strikes in Pakistan's tribal belt have been deeply unpopular with the public.
Pakistani officials have publicly condemned the drone strikes saying they violate sovereignty, but correspondents say Pakistani officials tacitly endorsed these strikes for years.