Australian PM orders parliamentary burka ban rethink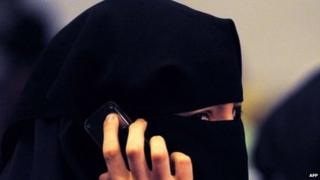 Australian PM Tony Abbott has urged the Speaker of parliament to reverse plans to ban women who cover their faces from sitting in the main public galleries.
"Common sense should prevail" when it comes to deciding on public access to parliament, he told Australian media.
Officials in parliament announced the measures, aimed at improving security, on Thursday.
The new rules would have required women wearing coverings to sit in a glassed-off area of the public galleries.
The proposed measure has been widely criticised as a potential breach of Australian anti-discrimination laws. One critic labelled it as "religious apartheid".
The plans would have affected Muslim women wearing niqabs, full-length garments where only the eyes are visible, and burkas, where no part of the face can be seen.
Critics argue that the measures would have been of dubious benefit to the security of parliament.
The Sydney Morning Herald reported that Mr Abbott's reservations about the face-covering ban mean that it is now "effectively dead".
"In a democracy such as ours, in a free and pluralist democracy, it's not the business of government to tell people what they should and shouldn't wear," the prime minister said.
Earlier in the week he described the burka as "confronting" - an item of clothing that he wished people would not wear.
Correspondents say the controversy comes as the government strives to assure Australia's Muslim minority that tough new counter-terrorism laws - coupled with recent police raids on terror suspects' homes - were carried out to fight crime rather than target a particular religion.
ABC News reports that Mr Abbott will argue for proper screening on the way into parliament, which could involve those wearing face-covering garments to show their faces to security.
While Mr Abbott regards parliament as a "people's house", he also recognises that private areas of the building - such as the ministerial wing - require a tougher level of security, ABC News reports.