Syria peacekeeping 'impossible' - Philippines leader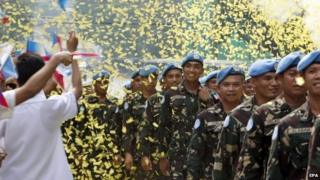 The Philippines has accused the UN of failing to support its peacekeepers in Syria after a rebel attack last month in the Golan Heights.
At a ceremony to welcome the soldiers back in Manila, President Benigno Aquino said troops would refuse "impossible or unclear" UN missions.
Around 70 troops engaged the rebels in a four-day standoff before escaping.
After the UN refused to supply more weapons, more than 300 Philippine troops were withdrawn from the area.
Their mission had been to guard the buffer zone between Israel and Syria.
The task had become dangerous since Islamic militants embroiled in the Syrian conflict began attacking UN forces, Mr Aquino said.
"Our troops cannot be deployed to help in a situation where their mission is impossible or unclear," he said.
The rebels also took over 40 Fijian peacekeepers hostage in the same area last month. The troops were later freed.
Israel seized most of the Golan Heights, a strategic plateau in south-western Syria, during the 1967 Six-Day War.
The two countries signed an armistice in 1974, after which the UN Disengagement Observer Force was put in place to monitor the demilitarised zone.
It has 1,224 lightly armed military personnel from Fiji, India, Ireland, Nepal, the Netherlands and the Philippines.
The Philippines is one of Asia's largest suppliers of peacekeeping troops to the UN.