School students join week-long HK democracy protests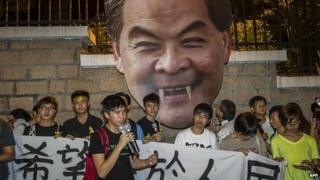 Hundreds of secondary school students have joined the week-long protest to demand fully democratic elections in Hong Kong.
On Thursday, about 2,000 university students held a night protest at the house of the Hong Kong leader, Chief Executive CY Leung.
The students say they want Mr Leung to speak directly to them.
Last month Beijing said candidates for the next leadership election in 2017 would be vetted by a committee.
The protests, which began on Monday with 13,000 people gathering at a park, are being organised by university students who are boycotting classes and democracy activists.
Some of the secondary students adding their voices to the protest on Friday said they had come without their parents permission.
"The government is ignoring our voices so I think that if we have so many secondary students boycotting the classes maybe then they will be willing to listen to us," said Agnes Yeung.
"Secondary students can also see what is happening in society so I think most of them are quite angry towards the decision of the government," she added.
Committee vote
Hong Kong operates under a "one country, two systems" arrangement with Beijing which means citizens are allowed the right to protest.
This week of student protest is being seen as a prelude to the pro-democracy Occupy Central campaign which is expected to begin next month.
Campaigners say protesters will blockade the territory's financial heart to highlight their concerns over electoral reform.
The Chinese government has promised direct elections for Hong Kong's leader by 2017. But in August, it ruled that voters would only have a choice of two or three candidates selected by a nominating committee.
Democracy activists say China will use this committee to screen out candidates it disapproves of.