India to build Nepal power plant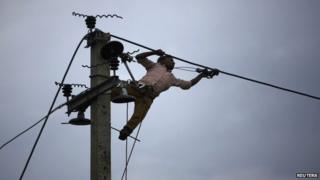 Nepal's government has endorsed plans for Indian firm GMR to build the country's biggest hydro-power plant.
A cabinet meeting approved the plan on Thursday. GMR executives are expected to sign the agreement on Friday.
Nepal suffers from chronic power shortages but most of the power generated from the Upper Karnali Hydro-power plant would go to India.
Nepal would get 12% of the electricity free of charge but could buy more to ease shortages, AP reports.
The agreement represents one of the biggest foreign investment deals in the country. Under it GMR would operate the plant for 25 years and then hand it over to Nepal, reports say.
Power cuts lasting for half the day are common in the Himalayan nation as the existing hydro-power plants are unable to cope with demand.
A 10-year civil conflict between Maoist rebels and the state, which ended in 2006, also meant that there was little investment in Nepal's power sector.
Nepal's many mountains and rivers makes it suitable terrain for generating hydro-electricity.