Afghan rape death sentences upheld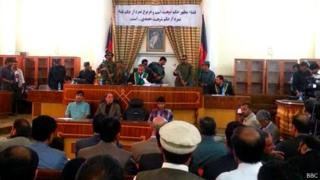 An Afghan court has upheld death sentences for five men convicted of gang raping four women, in a case which has sparked national outrage.
But the court commuted to life terms the death sentences of two other men found guilty of armed robbery.
All seven men were convicted of armed robbery but only five were found guilty of rape.
Activists say violence against women is prevalent in Afghanistan, but rarely attract this much attention.
The four women were attacked in Paghman town when they were returning to Kabul after a wedding in August.
Human Rights Watch said that many women in Afghanistan who reported rapes to police ended up being arrested for adultery.
One of the men accused the police of torture and forcing him to confess to the gang rape.
Police said the men were wearing police uniforms when they stopped a convoy of cars near Paghman, a town near Kabul. The men pulled out four of the women, separated them from their husbands and robbed and attacked them.
At least one of the victims had to spend a week in hospital following the attack. Another was said to be pregnant.