First Formula E electric motor race held in Beijing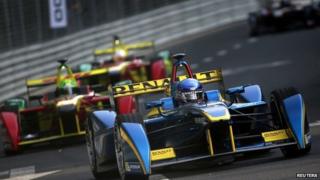 A new motor racing championship using electric cars has taken place in Beijing, backed by some of the sport's biggest brands.
Formula E cars can reach speeds of 225 km/h (140 mph) but the drivers had to change vehicle halfway through the race due to lack of battery power.
Competitors included the son of former Formula 1 champions Alain Prost and the nephew of his great rival Ayrton Senna.
UK tycoon Richard Branson and US actor Leonardo DiCaprio each backed a team.
The eventual winner was Brazilian Lucas di Grassi, after Nicolas Prost and Nick Heidfeld crashed as they battled for first place in the final lap.
London finale
Formula E has some influential backers - including motorsport's governing body Federation Internationale de l'Automobile (FIA).
The first season will feature 10 one-hour races in cities around the world, with the finale on a street circuit in London in June 2015.
Fans were able to vote online for their favourite driver ahead of the Beijing event - and the three most popular received a five-second speed boost.