Pakistan mosque collapse kills at least 10 people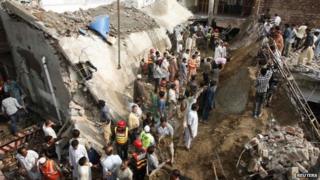 At least 10 people were killed and seven injured when the roof of a mosque collapsed in the Pakistani city of Lahore, officials say.
The cave-in happened in the low-income and highly congested Daroghawala area on the outskirts of the city.
BBC Urdu's Shumaila Jaffery in the city says that the roof of the main hall of the mosque collapsed when almost 25 people were offering midday prayers.
Officials told the BBC that the structure of the building was very old.
They say that its exterior had recently undergone renovation work.
Our correspondent says that up to 15 people are still believed to be trapped below the rubble.
The Express Tribune reported that rescuers had reached the scene and a major effort was now under way to save them.
"We fear that the death toll might rise. The roads there are very crowded, preventing heavy machines from entering the area to remove the debris. The people of the area are also helping the rescue effort," rescue official Jam Sajjad told the AFP news agency.
Our correspondent says last week 24 people were killed in roof collapses after torrential rains in the city.
Building safety levels are often below standard in Pakistan.
At least 17 people - including women and children - were killed in a factory collapse following a gas explosion in a residential area of the city in February 2012.